For Producers, Managers, and Real Talent

From Musicpowers.com -
Did you know that Music Powers e-book clients range from Superstar Producers, Artists, and Label Executives - to top Indies, up-and-coming Producers, and New Talent? It's true.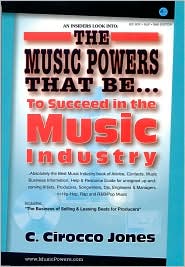 Facts:
·
19 of our Music Powers e-book/book clients have gotten major record, production, or publishing deals in just the past 23 months.
·
10+ Producer/Engineer e-book clients have gotten major internships in the past year.
"If this isn't the definitive guide to success in the music industry, it's at the very least, a great stepping-stone for all of the wannabe Kanye West's of the world."
-- The Badger Herald - The University of Wisconsin
"If you are looking for a book that will guide you through every calculated step of your journey to superstardom, 'Music Powers' is the answer
-- Deshair Foskey - VIBE.com
The bottom line - If you still do not have a record deal, professional management, or still trying to learn "how to sell music beats" - maybe it's time to invest in yourself with one of the best-reviewed products for new talent and music professionals.


The Music Powers Professional Pack 4-in-1 Bundle

1. The Award-winning, 367-page "The Music Powers That Be" e-Book Download
Includes: "The Business of Selling & Leasing Beats"
2. 2009 Music Industry Manager "Hot Sheet" e-Book download
3. Professional Music Business Contract Bundle Download
4. Lifetime access to www.musicpowers.com/365 (no subscription)


Order now for only $29.95 only at http://www.musicpowers.com/id228.html

(If purchased separately the cost would be $64.80)

For more info - visit:
www.musicpowers.com
Music Powers LLC
RMPMagazine.com